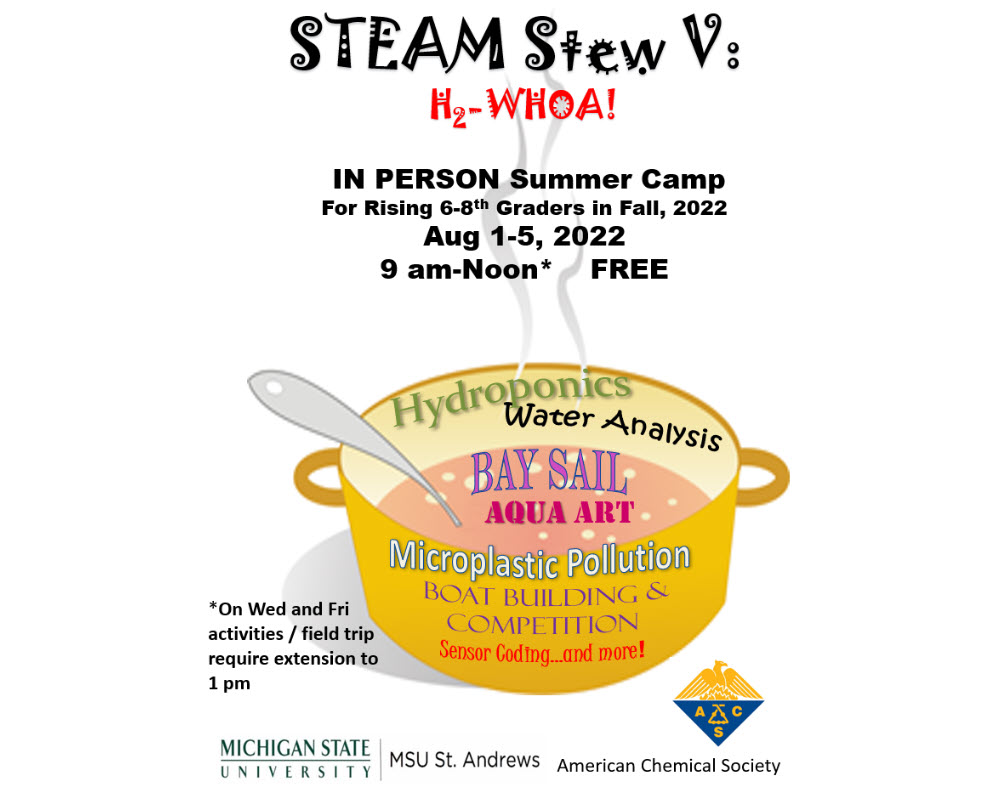 Local Time
Timezone:

America/New_York

Date:

Aug 03 2022

Time:

9:00 am - 1:00 pm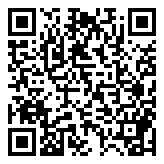 Date
Aug 03 2022
Expired!
FREE In-Person STEAM Stew V Summer Camp: H2 Whoa!
Camp Dates
Monday, August 1 through Friday, August 5, 2022, at MSU St. Andrews, Midland, Michigan.
Camp Schedule:
Monday, August 1 – 9:00 am-noon
Tuesday, August 2 – 9:00 am-noon
Wednesday, August 3 – 9:00 am – 1:00 pm*
Thursday, August 4 – 9:00 am-noon
Friday, August 5 – 8:00 am – 1:00 pm*
*These extended timeframes are due to special activities. Friday, August 5 will be a Bay Sail excursion sponsored by the MiSTEM Network.
Overview
This unique middle school camp will expose attendees to various aspects of the title theme, using a mixture of interactive lectures and hands-on activities. This camp will explore water properties and analysis, microplastic pollution, hydrology, and the prediction of floods, water-based art hydroponics, sensor coding, and boat building,
Objectives
to understand the properties of water and how they relate to its utility in art and science
to appreciate the importance and characterization of clean water and how we can conserve it
to appreciate the ways we use water and how to optimize our interactions with it
to gain experience with coding, successful data acquisition, and data analysis
to gain insight into related careers
Registration
Register by Tuesday, July 19, 2022, at 11:59 PM
Parent and Participant Handbook for Virtual Youth Programs
Please read our parent and participant handbook for virtual youth programs for information on policies, procedures, and before- and after-hours contact information.
Accommodation
Michigan State University is committed to providing equal opportunity for participation in all programs, services, and activities.
Important Dates for Consideration
Please register now through Tuesday, July 19 at 11:59 pm EDT
Acceptance emails will be sent by Friday, July 22
Every student and parent/guardian must attend the pre-camp orientation session via Zoom on Tuesday, July 26 at 7:00 pm via Zoom
Camp Dates: Monday, August 1 through Friday, August 5, 2022.
REGISTER NOW!
Attention students: MSU St. Andrews participates in the Great Lakes Bay Region STEM Passport Program.
The camp is conducted by the Midland Section of the American Chemical Society, Michigan State University, and MSU St. Andrews, with funding support from the Herbert H. and Grace A. Dow Foundation, the Rollin M. Gerstacker Foundation, the Charles J. Strosacker Foundation, the Dow Chemical Company Foundation, the Nexteer Steering the Future Fund and Hemlock Semi Conductor, LLC and MiSTEM Network.