2023 NCW Illustrated Poem Contest – The Healing Power of Chemistry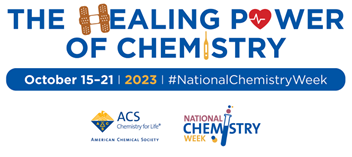 The Midland Local Section of the American Chemical Society (ACS) is sponsoring an illustrated poem contest for students in kindergarten through 12th grade.
Contest Deadline: Sunday October 29th, 2023
Visa/Master Card prizes for all 1st and 2nd place winners in each grade category!
Contact: Hannah Bailey at HannahBailey@dow.com
This contest is open to anyone in the Great Lakes Bay Region and beyond. Winners of the Midland Local Section's Illustrated Poem Contest will advance to the National Illustrated Poem Contest for a chance to be featured on the ACS website and to win prizes!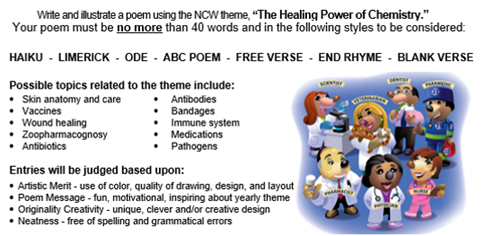 See the October issue of The Midland Chemist newsletter for contest flyer with complete rules and the entry form that must be sent with all submissions – emailed to HannahBailey@dow.com
Illustrated Poem Contest – National Chemistry Week – American Chemical Society (acs.org)
---
Awesome October Events!
Midland ACS is offering "Earth Day and a Half" activities to keep sustainability top of mind for members of our community. Both are FREE and open to the public but require sign-up. BOTH have space limitations, so sign up ASAP! Halloween celebrations begin soon after, so join us for Frankenstein Friday and The Halloween Bash as well! Check back as time progresses, for updates.
The first program, "Scrumptious Seaweed, a Food Science Café on October 12 at Bay City Western High School Cafeteria features culinary experts Jeremy Abbey and John Piazza from the Detroit Institute of Gastronomy. John and Jeremey will cook with seaweed in three courses, and offer samples to all audience members. The chemistry behind the preparations, and its impact on taste will also be discussed. A Zoom link is being investigated. (The 2023
On October 21 at the Delta College Midland campus, "A Sustainability Event: How WE can Make a Difference" will include a panel discussion with members of the community committed to environmental stewardship, suggestions to reduce your carbon footprint, and a pizza lunch followed by an opportunity to volunteer at the midland Recycling Center.
On October 27 at Rowe Hall (Bellows St on CMU's campus), we will offer "electrifying" science experiences as part of "Frankenstein Friday" (https://www.cmich.edu/events/2023/10/27/cmu-events/frankenstein-friday) that also feature the National Chemistry Week (NCW )theme "The Healing Power of Chemistry". We also plan to offer activities at "The Halloween Bash" offered at the Midland Center for the Arts on October 28. See the MCFTA website for more info on the latter.
---
Congratulations to the 2023 Illustrated Poem Contest winners!
Midland ACS congratulates the winners of our Chemist Celebrate Earth Week (CCEW) Illustrated Poem Contest! Claire Van Beek of Midland, Kaitlyn Vogel of Midland, Eleanor Hendrick of Saginaw, Alice Keck-Warren of Saginaw, Kynlee Carr of Gladwin, Lauren Van Beek of Midland, Lux Parker of Bay City, Charlie Van Beek of Midland, Ellie Trotter of Walkerville, Louis Huang of Midland, Lizzie DeGrow of Midland, Lexi Leiti of Midland, and Claire Vogel of Midland! This year's theme was "The Curious Chemistry of Amazing Algae"
---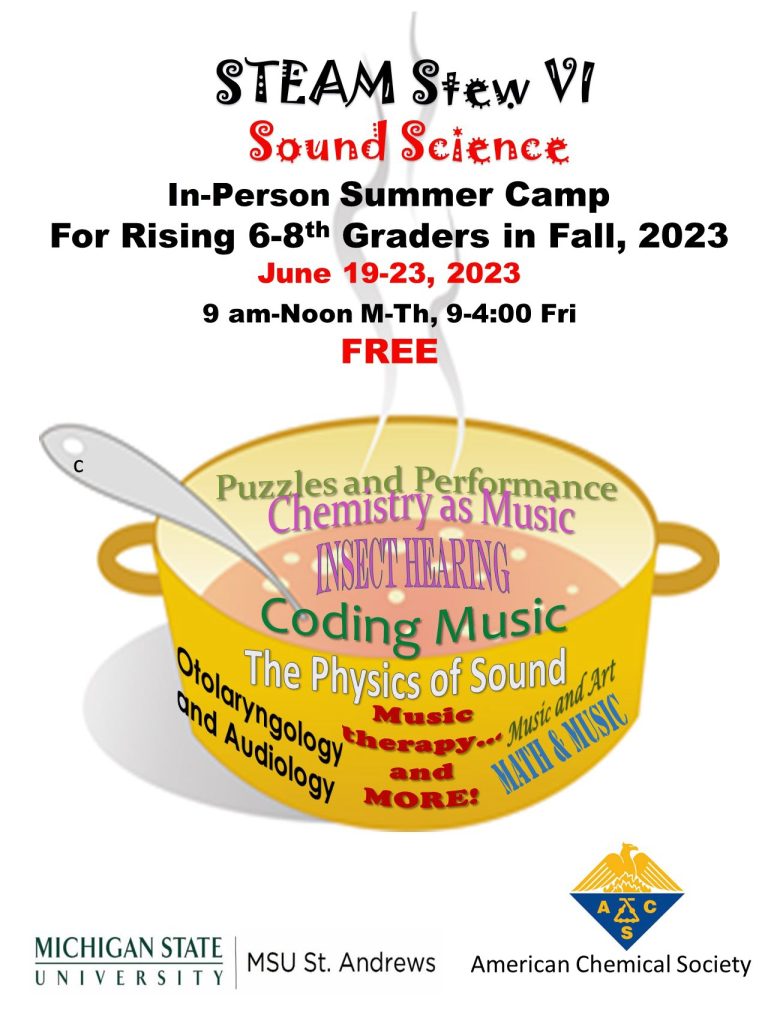 The Midland Section of the American Chemical Society ACS) and Michigan State University (MSU) are co-sponsoring a FREE in-person STEAM Stew VI "Sound Science" Summer Camp.
Scheduled for Monday June 19th – Thursday June 22nd; 9:00am to 12:00pm, and Friday June 23rd from 9:00am to ~4:00pm.
This camp explores sound and music, how they are produced and detected; students will learn how to play music on a keyboard and how to code and compose music on a micro:bit.
We have many stellar facilitators involved, presenting on topics from music therapy, bug ears, and the relationship between math and music, to making art from music.
We are also planning a small reception and performance at the end of camp on Friday. All students entering grades 6-8 in the fall are eligible, and the camp will take place on the MSU-St. Andrews campus in Midland. Please click the link below for more information!

---
Thank you for attending the 2023 EARTH ACTION EXPO!
Please join us for the 3 rd annual Earth Action Expo, celebration of Earth Day at Dow High School on April 22, 11am-3 pm. The event is FREE and will feature over 50 participating organizations or stations, with a variety of activities, information, and interesting items. Food trucks will be on site, and we will also be offering the special collection and sessions listed below. Entries to the Midland ACS Earth Day Illustrated Poem Contest will also be on display. If you have any questions, contact Gina Malczewski at reginamalczewski@gmail.com.
Electronics Recycling by RESOURCEFUL RECYCLING
Bring your unwanted electronics to the EARTH EXPO!
FREE to RECYCLE: Computer Towers, Laptops, Cell Phones, Keyboards/Mice, Printers/Copiers, VCRs, Routers/Modems, Office Phones, Game Boxes, Extension Cords, Christmas Lights… basically anything with a cord or a battery!
Electronic Recycling with a FEE: LCD/LED TVs (under 32") $10/ea (over 32") $15/ea, CRT Monitors $10/ea, CRT TVs $20/ea
INFORMATIONAL CHATS with PETER SINCLAIR
Peter Sinclair is a Michigan-based videographer, who has created hundreds of educational videos specializing in climate change and renewable energy. His videos are recognized by experts internationally and, in 2017, Peter was recognized as a "Friend of the Planet" by the National Center for Science Education.
Video/Q&A sessions with Peter:
11:30 & 1:30 Climate Science: A Long and Surprising History
12:00 & 2:00 Climate Impacts in Michigan and Beyond
12:30 & 2:30 Incredible Greenland – Beyond the Ice
STORY TIMES provided by GRACE A. DOW LIBRARY
– Recommended for Ages 3 to 6
– 20 min each
– 12:00, 1:00 and 2:00 pm
---
Thank you for submitting your Project SEED Summer Internship Applications! (Applications are now closed)
Midland ACS is now accepting student applications for our PAID summer internships! http://www.acs.org/projectseed
Deadline was March 31, 2023
This opportunity is open to rising Juniors, Seniors, and 2023 graduates that have taken at least one year of chemistry and qualify financially (see Financial Eligibility Requirements below) .
We have up to 18 PAID STEM summer research internships at area colleges/universities. First time SEED students earn $3,200 during 7-10 week program
In-Person Internships
Central Michigan University- 4 internships
Saginaw Valley State University- 2 internships
Delta College's Downtown Midland Center- 4 internships
Michigan State University St. Andrews location- up to 6 internships (rising Seniors and 2023 graduates only)
Virtual Internships
Central Michigan University- 2 internships (reserved for individuals not close to a physical location)
Methods of Demonstrating Eligibility:
Students must provide one of the following to demonstrate financial eligibility
A copy of a 1040 tax form showing that the annual adjusted gross income within the last 2 years has been 200% or less of the Federal Poverty Guidelines for household size
Documentation showing that the student is eligible for Free and Reduced Lunch Program (FRPL) at his/her/their school
Documentation showing that the family is eligible for Special Supplemental Nutrition Program for Women, SNAP, or WIC for Infants and Children (also referred to as EBT or food stamps)
Documentation showing participation in a TRIO program such as Upward Bound or other programs geared towards socioeconomically challenged families
---
Thank you for participating in the 2023 Midland ACS CCEW Illustrated Poem Contest!
Midland ACS is hosting its annual Illustrated Poem Contest for Chemist Celebrates Earth Week (CCEW).
This year's theme is "The Curious Chemistry of Amazing Algae."
Poems were displayed at our Annual Earth Day Expo, Saturday, April 22 from 11-3pm at HH Dow High https://midlandacs.org/events/earth-day-action-expo-2023/
Cash Prize for 1st and 2nd place in each grade category.
Winners were honored at our annual Awards Banquet held May 3rd at the Great Hall Banquet & Convention Center
---
Have You Read The Midland Chemist?

The Midland Chemist is the place to find out what happened and is going to happen in the Midland Local Section. ACS Local Section members and subscribers receive the Midland Chemist by e-mail monthly. The Midland Chemist serves those interested in the chemical sciences and science education in Mid-Michigan. The Midland Local Section serves the Michigan counties of Midland, Bay, Saginaw, Gratiot, and Isabella.
Please click here to subscribe. (**Note: If you are a teacher or professor, please enter your institution as your "company".)
Get the latest newsletter by clicking the button below.

View past issues at midlandchemist.org or by visiting our newsletter page.