Project SEED Summer Internship Applications Are Now Live!
Midland ACS is now accepting student applications for our PAID summer internships! http://www.acs.org/projectseed
Deadline is March 31, 2023
This opportunity is open to rising Juniors, Seniors, and 2023 graduates that have taken at least one year of chemistry and qualify financially (see Financial Eligibility Requirements below) .
We have up to 18 PAID STEM summer research internships at area colleges/universities. First time SEED students earn $3,200 during 7-10 week program
In-Person Internships
Central Michigan University- 4 internships
Saginaw Valley State University- 2 internships
Delta College's Downtown Midland Center- 4 internships
Michigan State University St. Andrews location- up to 6 internships (rising Seniors and 2023 graduates only)
Virtual Internships
Central Michigan University- 2 internships (reserved for individuals not close to a physical location)
Methods of Demonstrating Eligibility:
Students must provide one of the following to demonstrate financial eligibility
A copy of a 1040 tax form showing that the annual adjusted gross income within the last 2 years has been 200% or less of the Federal Poverty Guidelines for household size
Documentation showing that the student is eligible for Free and Reduced Lunch Program (FRPL) at his/her/their school
Documentation showing that the family is eligible for Special Supplemental Nutrition Program for Women, SNAP, or WIC for Infants and Children (also referred to as EBT or food stamps)
Documentation showing participation in a TRIO program such as Upward Bound or other programs geared towards socioeconomically challenged families

2023 Midland ACS CCEW Illustrated Poem Contest is Here!
Midland ACS is hosting its annual Illustrated Poem Contest for Chemist Celebrates Earth Week (CCEW).
This year's theme is "The Curious Chemistry of Amazing Algae."
Poems are due Thursday, April 20th, 2023 11:59 EST.
Please download the contest flyer (due date and rules), entry form and the Celebrating Chemistry magazine (for students to get ideas for their poem).
Poems will be display at our Annual Earth Day Expo, Saturday, April 22 from 11-3pm at HH Dow High https://midlandacs.org/events/earth-day-action-expo-2023/
Cash Prize for 1st and 2nd place in each grade category
Winners will be honored at our annual Awards Banquet held May 3rd at the Great Hall Banquet & Convention Center

Fall Scientific Meeting – A Touch of Chemistry
Registration is now open for the 2022 Fall Scientific Meeting! Please click the image below to find more details about the event!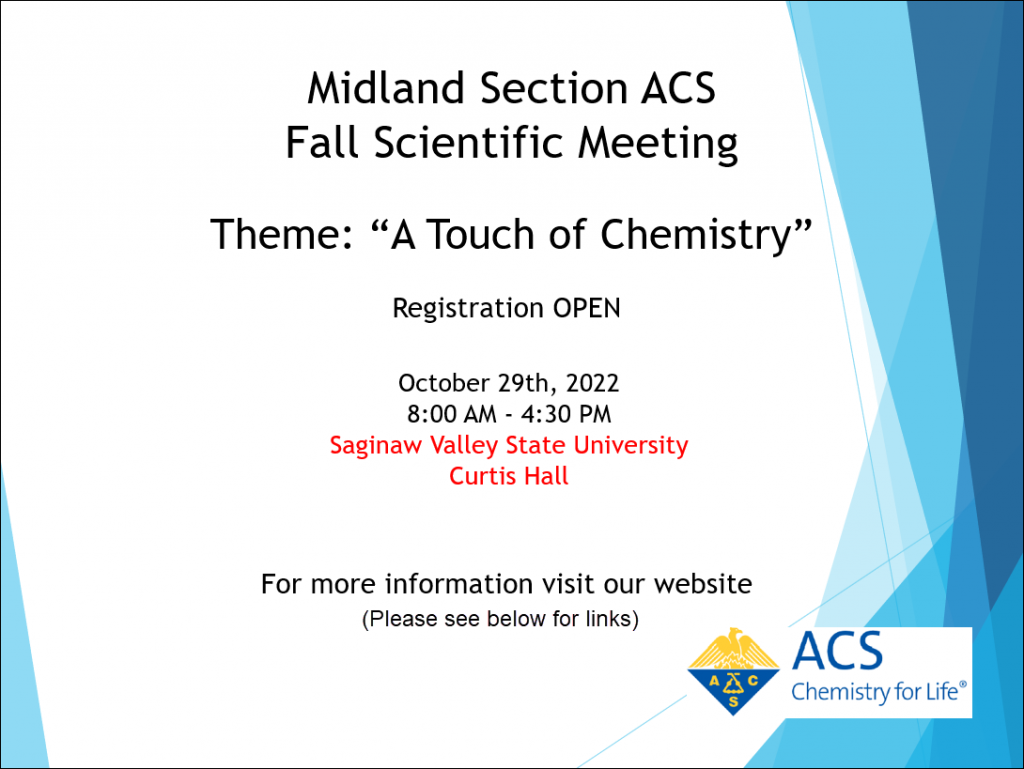 Thank you for joining us in welcoming Dr. Angela K. Wilson to the Grand Opening of A Century of Science & Service!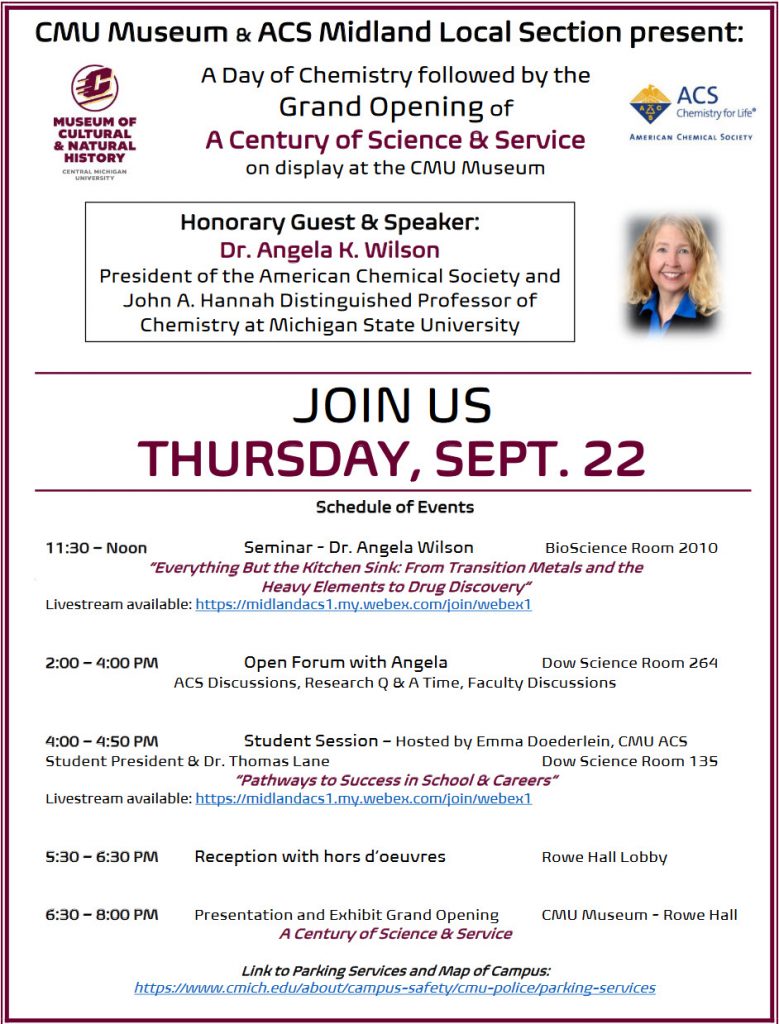 Dr. David Allan Receive CERM Award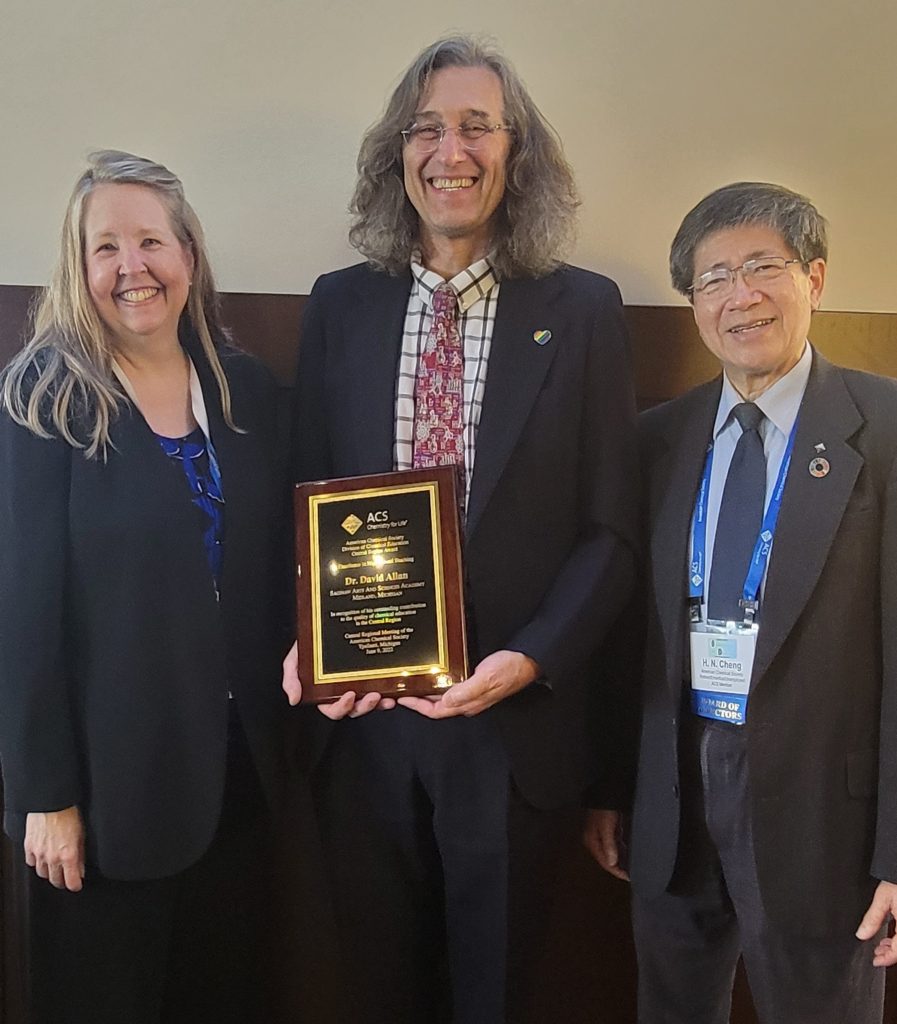 Dr. David Allan is, simply put, one of the most fascinating people I have had the honor of knowing. Last night at the CERM awards banquet, he was recognized with the Division of Chemical Education (ChEd) Regional Award for Excellence in High School Teaching as presented by H.N. Cheng (ACS Immediate Past President).
David began is career at Case Western Reserve University where he received his B.S. in Chemistry and his M.S. in Macromolecular Science and Engineering. He then went on to receive his Ph.D. in Polymer Science and Engineering from the University of Michigan.
Securing employment with Dow, he thrived as a specialist in emulsion polymers research, a project leader in superabsorbent products R&D, made many advancements in the science for Dow products, and authored 44 reports and 21 publications.
But there was something more that he wanted to achieve…a means through which he could pass along his passion for the sciences. So, back to school he went, receiving his teaching certification in Chemistry, Physics, and Math from Central Michigan University. David then left Dow to secure a teaching position in the Great Lakes Bay Region.
Dr. Allan is currently one of the most popular teachers at the Saginaw Arts and Sciences Academy where he teaches all levels of chemistry, physics, and astronomy. It is there where he has founded the school ChemClub and Environmental Club, coached a National Champion Science Bowl Team, and has been the coach of the FIRST Robotics Team.
Rachel Reid, Principal at SASA, describes Dr. Allan as and educator who "finds innovative ways to encourage student engagement, and he continues to seek professional development to ensure he has the best possible strategies, materials, and equipment to teach his students, and, instills in them the ability to "think like a scientist"". His versatility allows him to interact and motivate students with unique personalities and learning styles as he demonstrates fun laboratory experiments, organizes field trips, invites guest speakers, and mentors many extra-curricular activities (which include countless independent study projects for his students).
"Selfless dedication", an "inspiration to students and educators", a "mentor of the highest caliber" are all appropriate descriptions for this superhero of science.
It is not all serious in the way he hooks you into a science-based conversation. It may be appropriate to note here that he wore socks with the image of 'Einstein sticking his tongue out' for the occasion. David has many humorous stories, anecdotal quips, and thought-provoking quotes from his personal journey as well as recalling those of Einstein, Richard Feynman and many others that have paved the way in our field. He is a skillful listener and adept problem-solver as he considers the lesson and ruminates on ways to turn the concept into an engaging demo. Only from such an in-depth knowledge across several fields, a rich personal journey, a continual quest to be on the cutting edge of new concepts, and a sincere desire for personal interactions, can such influential and motivating conversations be realized.
In his own words, his teaching style comes from his passion for sharing his "curiosity and love of science with bright young people". The connection with his students begins with establishing a personal rapport. Dr. Allan believes that nurturing a love of science takes time, care and should connect concepts they learn in the classroom to their world and their experiences. Often, lesson plans are abandoned to pursue contemplative discussion on student inquiries around the topic…further nurturing their curiosity. Dr. Allan doesn't stop at connecting with students. He also fosters communication and collaboration between science educators and is why he established a Facebook page for them to network.
From his students' point of view, he is a mentor and confidant. They report some of their favorite activities include the annual Mole Day (10/23) t-shirt logo contest followed by tye-dying shirts and wearing them for this "chemist's holiday". Another: miracle berries (Synsepalum Dulcificum) – where the glycoprotein binds to the tongue's taste buds and acts as a sweet flavor when in contact with acidic foods…such as pickles. I have asked him to share with me the silvering of glass ornaments, exploding pumpkins, and a few other demos that we discussed at the banquet dinner…so I can "up my demo game with the second-grade classes I coach".
Among the affiliations, associations, and achievements Dr. Allan has on his curriculum vitae include, but are not limited to: National Science Fellowship, FRSEF Teacher of the Year 2017, AACT Dow Fellow, Carl F. Prutton Prize in Chemistry, W.R. Veazey Prize in Physical Chemistry…and…American Association of Chemistry Teachers, National Science Teachers Association, Tau Beta Pi Engineering Honor Society, American Association for Physics Teachers, ChemClub National Advisory Board, ACS Exam Institute (HS exam contributor), CHEMED Conference, several STEM Summits, Visiting Lecturer/Professor, numerous science fairs and, of course, the American Chemical Society. I had the distinct pleasure of presenting David with the 2011 ACS Midland Section Award for Outstanding Achievement in High School Chemistry Teaching.
The ASC Central Region is comprised of 25 local sections from areas of Indiana, Kentucky, Michigan, Ohio, Pennsylvania, and West Virginia. The Central Regional meeting (CERM) was held this week, hosted by Huron Valley at Eastern Michigan University.
In 2006, The Division of Chemical Education established an endowment to underwrite an Awards Program designed to recognize, encourage, and stimulate outstanding teachers of high school chemistry in the ten Regions of the American Chemical Society. Nominees must be actively engaged in the teaching of chemistry or a chemical science in a high school (grades 9-12) on at least a half-time basis. The Region Award consists of a $1,000.00 cash award and an engraved plaque, along with reimbursed travel expenses to the meeting at which the Award will be presented.
Our sincerest "Congratulations", Dr. David Allan!
Introducing the 2022 Leadership: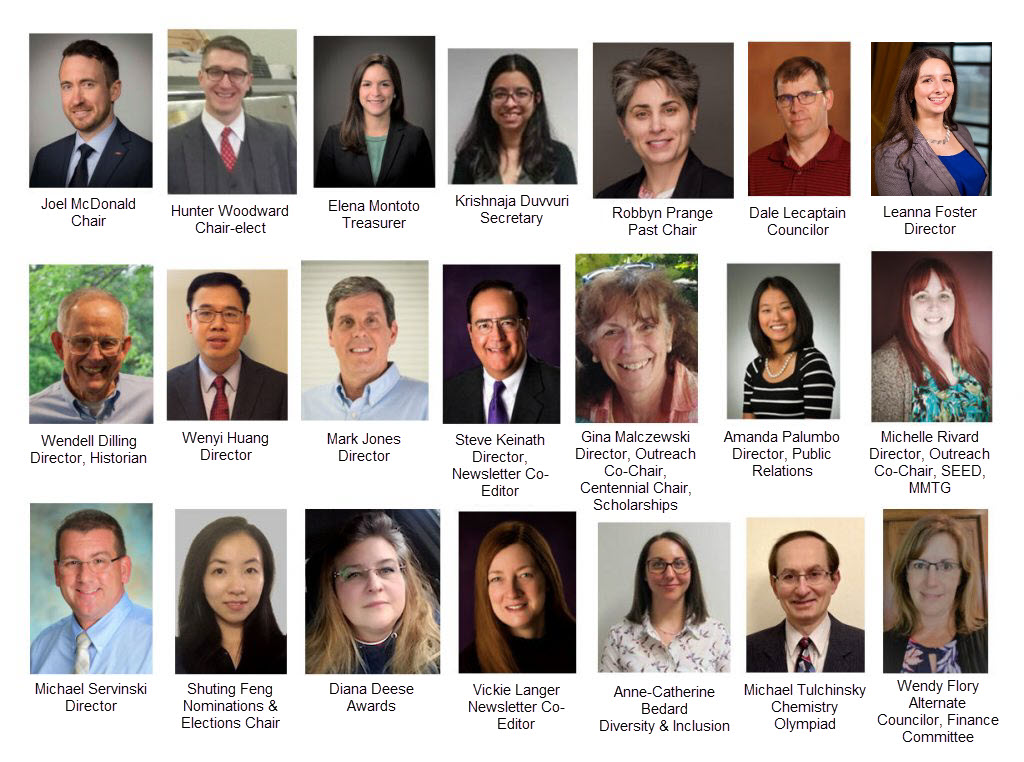 Midland Section 2021 In Review:
---
Have You Read The Midland Chemist?

The Midland Chemist is the place to find out what happened and is going to happen in the Midland Local Section. ACS Local Section members and subscribers receive the Midland Chemist by e-mail monthly. The Midland Chemist serves those interested in the chemical sciences and science education in Mid-Michigan. The Midland Local Section serves the Michigan counties of Midland, Bay, Saginaw, Gratiot, and Isabella.
Please click here to subscribe. (**Note: If you are a teacher or professor, please enter your institution as your "company".)
Get the latest newsletter by clicking the button below.

View past issues at midlandchemist.org or by visiting our newsletter page.